About the Author
Gene Legler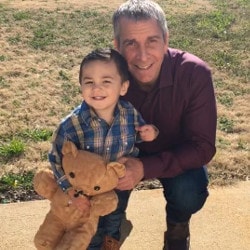 Gene Legler was born and raised in Rochester, New York, but now lives in Justin, Texas. He attended Holy Cross School and Charlotte High School. Growing up, all his heroes lived in the sports world: Muhammad Ali, Lew Alcindor, Rod Carew, Bobby Orr, and the Oklahoma Sooners. He and his friends spent their days playing baseball at 42 School, hockey on backyard rinks, and football on their street (on which Gene painted a fifty-yard field). In the winter, they swept driveways to clear their basketball courts. As Gene grew older, he realized that while idolizing sports stars as a child was nice, his biggest influences-and his real heroes-had been living right there in his home all along: his parents. His father, Edward, was a firefighter and worked a second job in a tool and die shop to support a family of six. His mother, Noreen, a homemaker, was always there with her helping hands and her caring heart.
When Gene was five years old, he had a stuffed tiger he took everywhere. His mother asked him if he would donate it to Goodwill. She convinced Gene that as much as he loved that tiger, there was someone who needed it more. He agreed, and it was then that she bought him a teddy bear that he named Sandy. This was the genesis of My Huggy Bear. Sandy is a little tattered and has gotten a lot of love through the years, having also been the companion of both Gene's children and his grandchildren, Luka and Elias. Today, Gene has started a nonprofit called Helping Hands and Caring Hearts of America. The foundation provides financial assistance for college to minority students living below the poverty line.
All proceeds from My Huggy Bear go directly to supporting Helping Hands and Caring Hearts of America.